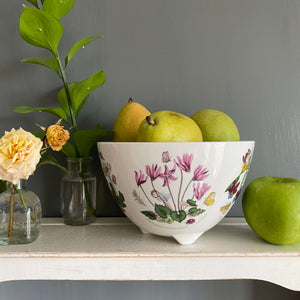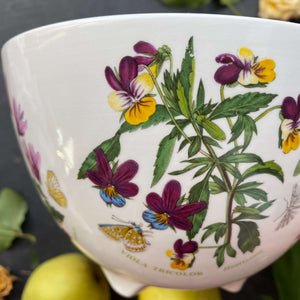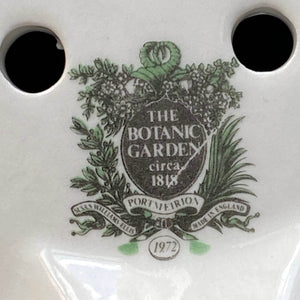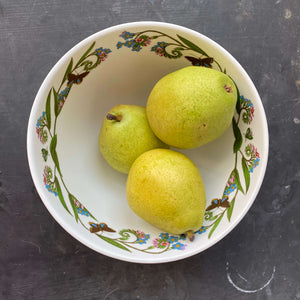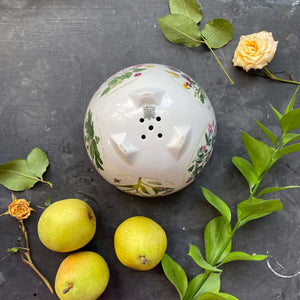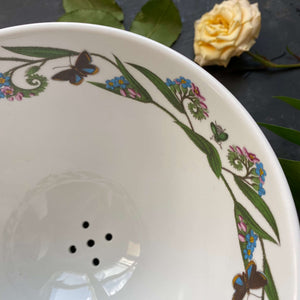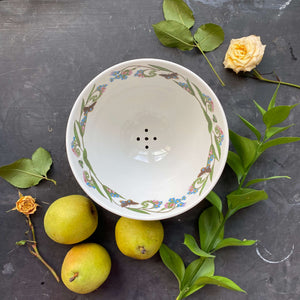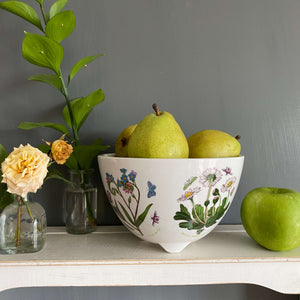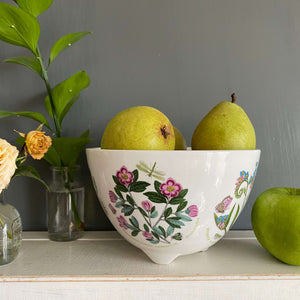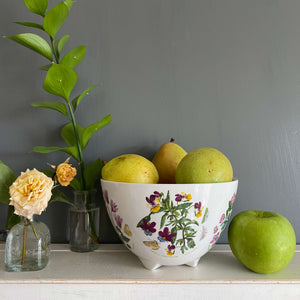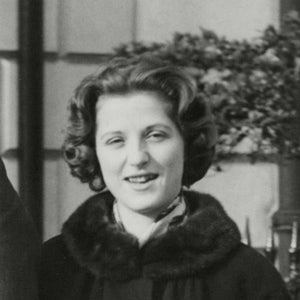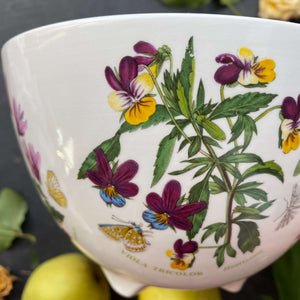 Vintage Portmeirion Fruit Strainer Drainer Colander - Botanic Garden Pattern circa 1972 - Made in England
Words are but poor instruments for describing plants. Deanne Swingle, 1946
{HISTORY}
There are so many stories wrapped up in this fruit strainer that it very naturally takes on the form of a functional piece of kitchenware and also a stunning example of art history. Made by Portmeirion Pottery in Stoke-on-Trent,  England, this pattern was called Botanic Garden and represents the artistic pursuit of an English sketch artist turned pottery maker named Susan Williams-Ellis.
Born in 1918, Susan was from a famous artistic family, daughter of an architect and an author, and studied art and form her entire life. When she moved to the coastal town of Portmeirion in North Wales in the 1940s following her marriage, she and her husband eventually took over running of the town's souvenir shop. There, she established a successful tableware and giftware product line in the 1950s and 1960s that would eventually expand to a second location in London.  Offering unique dishes for the modern collector, Susan came up with her first custom-designed dishware in 1972 with her Botanic Garden line which featured a variety of botanical flowers on mix and match dishes.
Based on illustrations from an 18th-century botany book discovered in a dusty bookshop, Susan was enthralled with the colorful drawings and wanted to incorporate them into a multi-faceted collection of dishware that would both delight diners and beautify the kitchen. This was a new idea to the dish world in England and Wales, where people traditionally purchased matched sets of dishes all featuring one pattern. Since Susan's idea was to design an array of different flowers within the collection and meant to be mixed and matched, the Botanic Garden series was considered quite unusual and avant-garde. It was slow to take off at first but has since grown to become Portmeirion Potteries best selling design. 
Always a little bit ahead of her time, Susan was both a successful designer and a dynamic businessperson, actively involved with Portmeirion Pottery up until her death in 2007 at the age of 89. Portmeirion Pottery still continues to make beautiful and unique dishware in Stoke-on-Trent today, and Botanic Graden is a beloved favorite now enjoyed by home cooks all around the world. 
{SPECIAL FEATURES}
- Footed pedestal design
- Features five different flowers on the outside - Viola Tricolor,  Cyclamen Repandum, Bellis Perennis, Myosotis Palustris, Rhododendron Lepidotum and a ring of flowers and butterflies on the interior
- There are five drainage holes at the center of the base
Colors include raspberry, evergreen, Windsor blue, marigold, brown, spring green, pink, purple, lavender, mint, sage, eggplant, grey  and butter
- Stamped on bottom with maker's mark and pattern name
{CONDITION}
In gorgeous condition. Contains no chips, cracks or crazing
{SIZE}
Measures 6.75" inches (diameter) x 4" inches (height) and weighs 1.5lbs